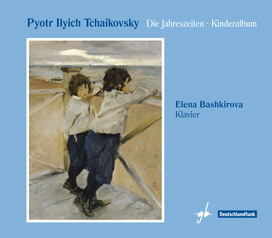 The Sphinx of Russian music. In an intimate circle, Peter Ilyich Tchaikovsky with his fragile charm could be spell-binding to all those who enjoyed the privilege of his presence. At times, however, he developed a shyness towards people that left him no other possible way out than to flee in panic.
The years from 1876 to 1878 were particularly rich in personal crises. And yet he wrote in this period two piano cycles that contain real jewels of consummate poetry – ʻThe Seasons' Opus 37 bis and the ʻChildren's Album' Opus 39. The catchy titles of the pieces and their readily comprehensible melodies make it easy to forget that their true nature is that of models, of studies on a greatest diversity of compositional problems.
Whoever listens closely is very likely to detect the discreet "Music behind the music". Almost secretly, a beguiling world of perfect musical forms is revealed.