Wilhelm Rettich,
Else Lasker-Schüler Zyklus op.26A
26 lieder and songs for voice and piano
 
Michal Shamir - Soprano
Vag Papian - Piano
 
Co-production:
Gideon Boss Musikproduktion and Deutschlandfunk © 2006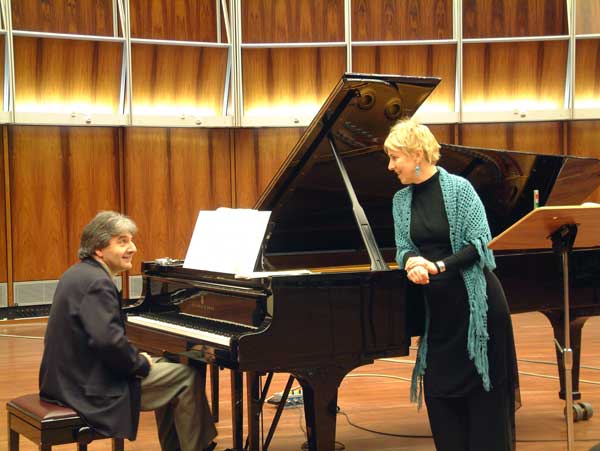 Photo: Deutschlandfunk – Jeanette Singer
Michal Shamir – Soprano
Born in Tel Aviv, graduated from the Rubin Musikakademie, Tel Aviv, in piano and voice. Engagements in the leading opera-houses in Europe: the Hamburgische Staatsoper, Deutsche Oper in Berlin, Volksoper Wien, Frankfurt, Geneva, Strassburg, Stuttgart, Leipzig, as well as the New Israel Opera. Her comprehensive repertoire includes the most important arias, but she is also well-known as an interpreter of Lieder. She has been particularly successful as a performer of works by Weill and Eisler. At the Expo in Hannover she presented a program of Lieder of the 20th century. Michal Shamir also enjoys singing in the symphonic field, where she has worked with such great orchestras as the San Francisco Symphony Orchestra, the Philharmonic Orchestras of Israel and Helsinki, the Orchestre de la Suisse Romande and others. Furthermore, she has interpreted works by Aribert Reimann, Krzystof Penderecki and Witold Lutosławski, conducted by the composers themselves. Michal Shamir lives in Tel Aviv.
Vag Papian – Conductor and Pianist
Vag Papian studied at the Moscow Conservatory under the famous Michael Voskresensky, as well as at the St. Petersburg Conservatory, where he was a member of the elite class of the legendary Ilia Musin. After winning the International Viana da Motta Piano-Competition in Lisbon in 1979, he was invited to play in all the important concert-halls of the Soviet Union, including St. Petersburg and Moscow. He has conducted many important orchestras, like the English Chamber Orchestra, the New Japanese Philharmonic, the Symphony Orchestra of Jerusalem, Moscow, Belgrade and Malmö, as well as the Wiener Sängerknaben. In 1987 he was invited by Valery Gergiev to become artistic director of the Armenian Philharmonic Orchestra, and 2005/2006 he began working with the Mariinsky Theatre in St. Petersburg. In 1990, he emigrated to Israel, where he teaches piano and conducting at the Buchmann-Mehta Conservatory for Music in Tel Aviv. Since 2006, he is the artistic director of the Ashdod Symphony Orchestra in Israel. He has made recordings for EMI Classic as recital partner of Maxim Vengerov. Vag Papian lives in Tel Aviv.