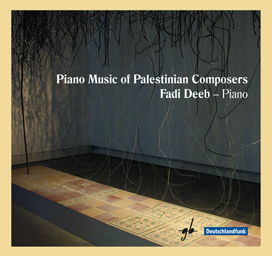 What is it that makes the music of a Palestinian composer, or a work relating to Palestine, into Palestinian music? This question would seem impossible to answer. This anthology, however, for the first time in the history of music production, presents piano works entirely from the pen of Palestinian composers, and puts this music on the map of cultural awareness.
For international music-lovers, Palestinian composers are almost entirely unknown. Equally unknown is the fact that, from the beginning of the 20th century, a lively 'Western' musical landscape formed an important aspect of Palestinian culture, mostly in Jerusalem, Bethlehem, Ramallah und Nazareth – with active musicians and choirs, and very frequently in joint working relationships with Jewish colleagues.
The fate of the Palestinian people also shaped its cultural life. Most composers had to leave their homeland and live in exile. Those who remained became Palestinians with Israeli citizenship.
The aim of this anthology is to bring to light and reflect an important facet of Palestinian culture of the past and present. The collection seeks to provide a testimony of the manifold diversity of voices giving expression to Palestinian complexity.