Leo Kok
Lieder and chamber music
Marcel Worms – piano
Irene Maessen – soprano
Ursula Schoch – violin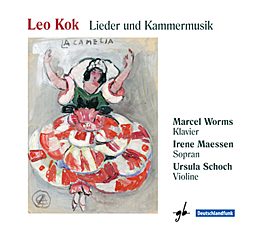 Leo Kok, pianist, composer, resistance fighter and antiquary, was born on 24th November 1893 in Amsterdam. Since both of his parents died shortly after the birth of their son, the orphan grew up first under his grandmother's care, and then, following her death, with an aunt in The Hague.
He studied music at the Royal Conservatory in The Hague under Willem Pijper.
During the First World War, the convinced pacifist refused war service and was interned.
Alongside his work as a composer, he was active as Lied accompanist and as piano accompanist for various dance artists, including the dancer Lili Green and the major Expressionist dancer Charlotte Bara, of whom he became the most important musical partner.
He and Bara appeared together at her 'Teatro San Materno', which became the prime cultural location in Ascona, and a popular meeting-place of the legendary bohemian group of Monte Verità. Their other performances included 'The Triumph of the Camellia' – the climactic festival event of the Locarno 'Camellia Festival' under the direction of René Morax, celebrated on the Piazza Grande in Locarno.
With the rise of National Socialism, Leo Kok followed his pacifist convictions and became engaged as a resistance activist.
One of his friends and comrades in the 'Résistance' was the publisher Guy Lévis Mano. Kok moved into his apartment until he was arrested, and taken to the concentration camp Buchenwald on 24th January 1944.
After liberation, Kok returned to Ascona, where he opened the antiquarian bookshop, 'Libreria della Rondine', which soon developed into a meeting place for intellectuals and artists.
Due to injuries sustained to both his wrists through torture during the war years, but possibly also because of his painful experiences, he renounced any continuing career as a pianist. He composed again, mostly for the Marionette Theatre of Ascona.
Leo Kok died on 7th August 1992, at almost 99 years of age, in Ascona. His ashes were taken to Paris and scattered from his favourite bridge 'Le Pont des Arts' into the Seine.