Johann Sebastian Bach
A Musical Offering
(BWV 1079)
in the realisation by Gerd Zacher (1999)
 
Barbara Tacke-Laepple -
Flauto traverso
Jörg Lengersdorf -
Violino I
Mirjam Steymans -
Violino II
Alexander Scheirle -
Violoncello
Gerd Zacher -
Cembalo
Co-production:
Gideon Boss Musikproduktion und Deutschlandfunk © 2009
edition gravis Musikverlag, Berlin
SACD Hybrid
Surround sound on all SACD players
Stereo sound on all regular CD players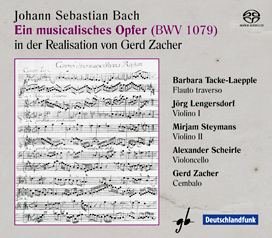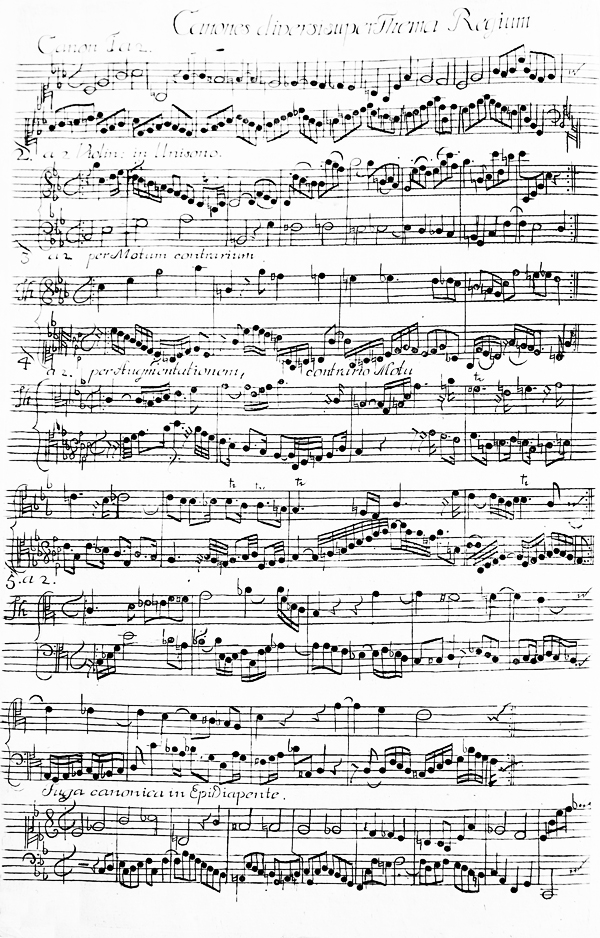 From the first printed edition, 1747 Breitkopf & Härtel (notes-engraving by Johann Georg Schübler) with kind permission of the Music Library of the Municipal Library Leipzig.
Bach composed the Musical Offering after visiting Frederick the II at his residence in 1747. The so called "royal theme" served as the motive for two ricercares, a four movement trio sonata and several individually structured canons. Thanks to his thorough experience with musical aesthetic, language and compositional conventions of performance, Gerd Zacher, organist, composer and musicologist, was successful in redefining the meaning and intentions of Bach's notation in this particular work. Zacher's efforts present us with a new interpretation and understanding of the Musical Offering, resulting in new perceptive and acoustical dimensions. As his essay clearly demonstrates, Zacher proves Bach's work to be a cycle with a clearly justified order, symmetry, proportion and logic. The canons form the very heart of the entire piece. The semantics of each are individually outlined, Bach's enigmatic notation deciphered and each canon presented repeatedly by varying instrumental combinations, leading due to open-end horizons, into endless new spaces. In this recording, Gerd Zacher, who himself plays the cembalo, is joined by four young musicians in the realisation of his profound science of musical interpretation and performance.