Johann Sebastian Bach
A Musical Offering
(BWV 1079)
in the realisation by Gerd Zacher (1999)
Barbara Tacke-Laepple -
Flauto traverso
Joerg Lengersdorf -
Violino I
Mirjam Steymans -
Violino II
Alexander Scheirle -
Violoncello
Gerd Zacher -
Cembalo
Co-production:
Gideon Boss Musikproduktion and Deutschlandfunk © 2009
edition gravis Musikverlag, Berlin
SACD Hybrid
Surround sound on all SACD players
Stereo sound on all regular CD players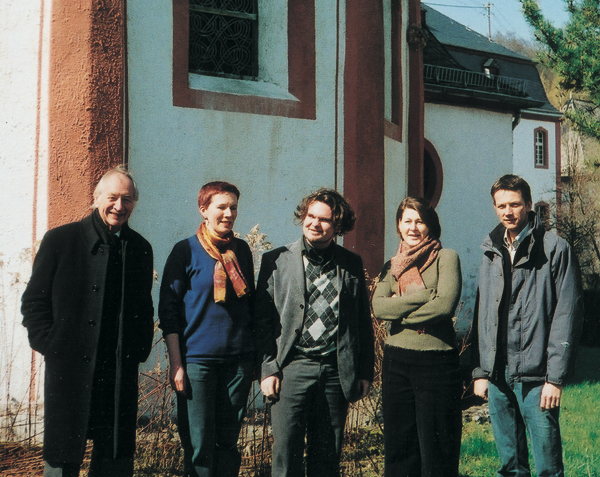 The performers (left to right): Gerd Zacher, Barbara Tacke-Laepple, Joerg Lengersdorf, Mirjam Steymans, Alexander Scheirle
Gerd Zacher – Realisation & Cembalo
Born in Meppen an der Ems, 1929, he studied at the Nordwestdeutsche Musikakademie in Detmold (1949-1952) and in Hamburg (1952-1954). Studies with the Reger student Fritz Lubrich (in Kattowitz), the Busoni student Theodor Kaufmann and the Karl Straube students Michael Schneider and Hans Heintze. Zacher participated in the Summer Workshops in Darmstadt in 1952 and 1953. Played his first organ recital in Hamburg 1952 (Messiaen's cycle Les corps glorieux). He performed as an organ soloist in Europe, USA, Australia and Japan. Cantor and organist at the German Evangelical Church in Santiago, Chile (1954-1957) and at the Lutherkirche in Hamburg-Wellingbuettel (1957-1970), where he also served as the Music Director. In 1970 Zacher accepted a position as Professor for Sacred Music at the Folkwang-Hochschule in Essen, where he taught until 1991. Zacher played an important role in the revival of the organ as an instrument for avant-garde composition. Zacher's willingness to deeply explore his instrument has lead to the development of new performance techniques and sounds. Among the composers who composed for him are John Cage, Mauricio Kagel, Gyoergy Ligeti, Dieter Schnebel and Isang Yun. Zacher's intense interest in the organ and its traditional role deeply influenced the current interpretation of Bach's music – through publications, seminars and the cycle Die Kunst einer Fuge – Bachs Contrapundtus I in zehn Interpretationen (1968/69). Gerd Zacher passed away in Essen, June the 9th 2014, at the age of 84 years.
Barbara Tacke-Laepple – Flauto traverso
Student of Hans-Juergen Moehring, WDR, further studies with Paul Meisen in Duesseldorf and in Detmold. Member of the orchestra and the wind instruments' ensemble of the Junge Deutsche Philharmonie for several years, and partcipation in the Ensemble Modern, Frankfurt. Concert appearances in and outside Germany as well as several CD and radio productions. Freelance chamber musician and teacher in Essen and Berlin.
Joerg Lengersdorf – Violino I
Early studies, at the age of seven, with Ernest Frissen and later with Charles-Andre Linale at the Music Conservatory of Cologne. 1993-94 scholarship at the European Mozart Academy in Prag, working together with Denes Szigmondy, Sandor Vegh, Ana Chumachenco and Boris Pergamenschikow. Further studies in Utrecht with Keiko Wataya and in Berlin with Eberhardt Feltz. Founding member of the Malikian Quartet and the Settembrini Piano Trio. CD and Radio productions for Germany's leading radio stations DLF, SWR, WDR and DRS.
Mirjam Steymans – Violino II
Born in Cologne in 1969. First violin lessons at the age of five; student in Igor Ozim's Masterclass from the age of sixteen. Chamber music studies with the Amadeus Quartet. Concert master of the Klassische Philharmonie in Bonn. Solo appearances with the Philharmonie Bonn, Staatsphilharmonie Halle and the Koeln Chambre orchestra. Member of the Kammerorchester Basel and the Bayerische Kammerphilharmonie.
Alexander Scheirle – Violoncello
Born in 1968. Studies in Aachen, Cologne, Saarbruecken and London with Martin Lovett (Amadeus Quartet), Moray Welsch, Boris Pergamenschikow and others. DAAD (scholarship) recipient. Chamber music with Sergio Azzolini, Ingo Gortizki and Wolfram Guettler. Solo cellist at the Bayerische Kammerphilharmonie, Munich. Concerts with conductors like Christopher Hogwood, Trevor Pinock, Paavo Jaervi and Mario Venzago; CD recordings of contemporary solo works. Since 2006 Artistic and Managing Director of the Crested Butte Music Festival in Crested Butte, Colorado, USA.