The Jerusalem International Chamber Music Festival
Artistic Director –
Elena Bashkirova
Jerusalem International YMCA Concert Hall,
Live recording
 
Co-production:
 
Gideon Boss Musikproduktion
 
Israel Broadcasting Authority,
Voice of Music
 
© 2009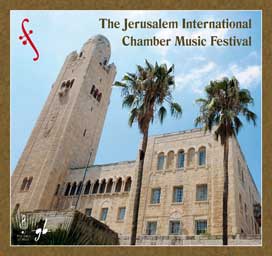 Dear friends.
We hope you will enjoy these live recordings of the Jerusalem International Chamber Music Festival. The first festival took place in September 1998, the idea being to offer Israeli music lovers, who already had several symphony orchestras and an opera house, chamber music of a high international level. Jerusalem was an ideal place, since it is not only the cradle of all western cultures and religions, but also because in the last years it has suffered the loss of a great part of secular intelligentsia due to political and religious tensions. For these reasons we were able, from the beginning, to count on the presence of some of the best international musicians. They were willing to take time off from their many activities, in order to come to Jerusalem, volunteer their services and thereby create a very special synthesis of high musical quality and intimate family- like atmosphere. Having started modestly, the festival has become, over the years, a central point of musical Israeli life, enjoying a variety of artists and a loyal, enthusiastic, music loving public, arriving to Jerusalem from many different parts of the country. All concerts take place in a beautiful hall of the YMCA, with its wonderful acoustics and welcoming atmosphere for all different communities in the city. The programs are conceived so as to include a great variety of musical styles with conventional and unconventional formations of instruments. All the pieces on these CD's were recorded live during the 2009 festival. I hope they will give you an inkling of the special atmosphere of the concerts.
Jerusalem International YMCA Concert Hall
Photo © Monika Rittershaus
Elena Bashkirova, Artistic Director